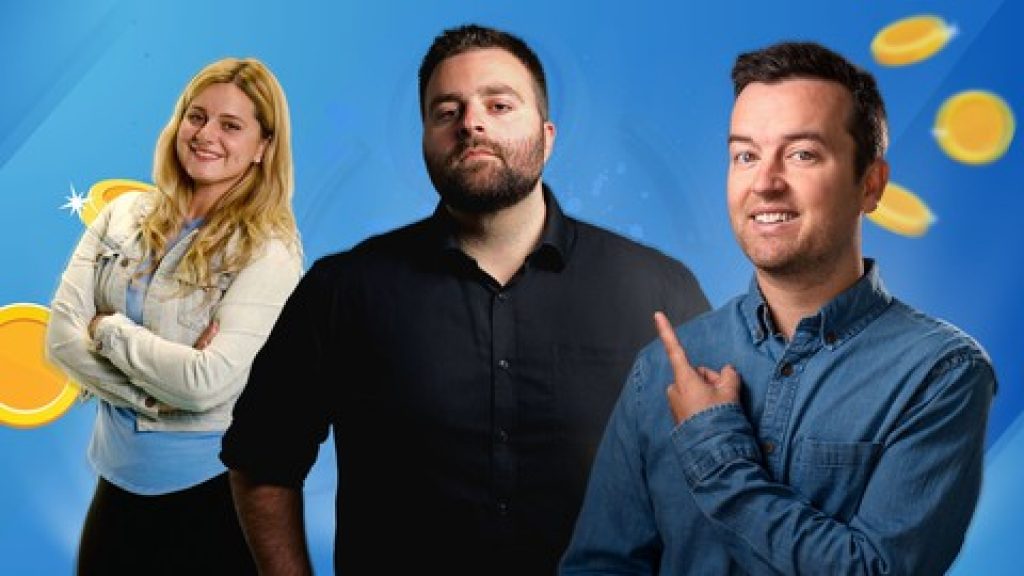 Simple Guide to Crypto & NFT: 2-in-1 Cryptocurrency Course
Cryptocurrency Demystified. Learn Everything: Crypto Trading, Blockchain, Bitcoin, Etherium, Crypt Wallets, NFT & more.
Created by Video School, Phil Ebiner, Mitchell Bouchard, Red Cape Learning, Chanel Bouchard | 7 hours on-demand video course
Welcome to the Simple Guide to Cryptos & NFTs: 2-in-1 Course! This comprehensive course is your ticket to becoming a proficient player in the exciting world of cryptocurrencies and NFTs. Regardless of whether you're starting from scratch or have some experience in the realm of digital assets, our team of expert instructors is here to provide you with a clear, practical, and all-encompassing educational journey.
Get Instant Access to:
Easy-to-watch video lessons
Lifetime updates to the entire course
A free downloadable workbook with tips from every lesson
Instructor support if you ever get stuck
This crypto course leaves no stone unturned. From the very basics of setting up your digital wallet to the intricacies of sending, receiving, staking, and even venturing into the world of yield farming with cryptocurrencies and NFTs, you'll gain a comprehensive understanding of this evolving landscape. The financial potential within this space is immense, and we are here to help you maximize it.
Don't let the opportunity to boost your knowledge and amplify your crypto and NFT investments slip through your fingers. Join us on this thrilling journey, and together, we'll unlock the boundless possibilities offered by this dynamic and ever-changing market.
What Will You Learn in this Crypto Course?
Understanding Cryptocurrencies: Dive into the fundamentals of cryptocurrencies, their significance, and how they function.
Deciphering NFTs: Explore the world of non-fungible tokens, their applications, and the booming NFT market.
Blockchain Basics: Get to know the technology that underpins it all, blockchain, and its transformative potential.
Crypto Wallet Setup: Learn how to establish secure digital wallets for your assets.
Sending and Receiving: Master the art of sending and receiving cryptocurrencies and NFTs efficiently.
Staking Cryptos: Understand how to stake your cryptocurrencies and reap the rewards.
Acquiring Cryptos and NFTs: Discover the process of buying and investing in digital assets.
Exploring Top Crypto Projects: Find out how to identify and engage with the most promising crypto ventures.
Hardware Wallets: Learn the importance of hardware wallets and how to use them to safeguard your investments.
Asset Protection: Explore best practices for keeping your digital assets secure.
Token Swaps: Get acquainted with the concept of swapping tokens.
Yield Farming: Venture into the world of yield farming and capitalize on this exciting opportunity.
The Simple Guide to Cryptos & NFTs: 2-in-1 Course is designed for anyone eager to grasp the fundamentals of cryptocurrencies and NFTs. Whether you're a curious newcomer or an experienced investor, this course has something valuable to offer.
FREE Extra: This course also comes with a custom workbook that will help guide you along your crypto journey!
Recommended Course
Cryptocurrency & Bitcoin Trading – Earn Extra Passive Income Weekly Trading Crypto & Altcoin Using Technical Analysis
Create powerful Trading Strategies and fully automated AWS Trading Bots for Bitcoin & co. | Spot and Futures Trading
Let's go on this journey together!
Embark on a transformative learning journey by enrolling in this comprehensive crypto course on Udemy today. In a world where digital finance is rapidly reshaping the economic landscape, gaining a solid grasp of cryptocurrencies, blockchain technology, and NFTs is paramount.
This course is crafted to provide you with a robust understanding and hands-on experience in the crypto realm, preparing you to navigate and thrive in this digital frontier. With our expert-led modules, real-world application exercises, and a community of like-minded learners, you'll be well on your way to unlocking new opportunities in the burgeoning crypto ecosystem.
Your journey towards mastering the intricacies of the crypto world begins here—enroll now and step into the future of finance!
Who this course is for:
Beginner cryptocurrency enthusiasts
Beginner investors