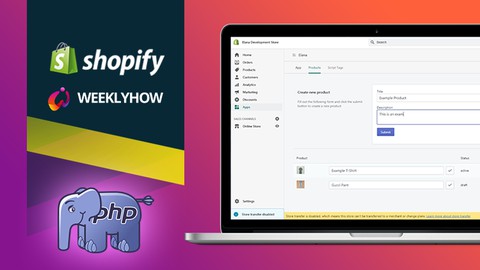 Shopify App Development – Vanilla PHP, GraphQL, & REST API
Learn Shopify app development & create Shopify apps using Vanilla PHP, GraphQL, REST API, and more!
Created by Bernard Polidario | 7 hours on-demand video course
In this course, I will be teaching you how to create a Shopify app from scratch using vanilla PHP. That means we are NOT going to rely on libraries or repositories created by other programmers. We ARE going to create everything from scratch. If you want to learn more about me, I have been developing Shopify apps since 2018 and so all of the things I know, I will be sharing with you so YOU can start your new career and make a profit out of your Shopify apps.
What you'll learn
You will learn how to create amazing Shopify apps
You will learn how to use Shopify REST API
You will learn how to use GraphQL API in vanilla PHP
You will learn how to design a Shopify app without Polaris
You will learn about ScriptTags, App Bridge, etc.
You will learn about JWT / Session Tokens in Shopify
Recommended Course
Shopify App Development using React & Node (Build an App!)
Build a Custom Shopify Storefront using React (Headless CMS)