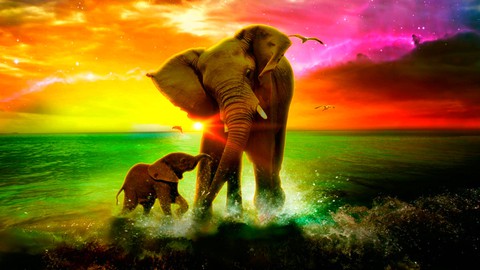 PostgreSQL v12 Database Administration on Windows and Linux
Comprehensive Guide to PostgreSQL v12 Database Administration : Walk-in a Beginner, Walk-Out an Expert
Created by Sadiq Basha | 9.5 hours on-demand video course
PostgreSQL is an advanced, enterprise class open source Object-Relational Database Management System (ORDBMS). Its is a relational database that supports both SQL (relational) and JSON (non-relational) querying.
PostgreSQL possesses robust feature sets including Multi-Version Concurrency Control (MVCC), point in time recovery, granular access controls, tablespaces, asynchronous replication, nested transactions, online/hot backups, a refined query planner/optimizer, and write ahead logging. It supports international character sets, multi-byte character encodings, Unicode, and it is locale-aware for sorting, case-sensitivity, and formatting. PostgreSQL is highly scalable both in the quantity of data it can manage and in the number of concurrent users it can accommodate. The course provides the learner with an extensive knowledge of PostgreSQL Database Administration with real time examples.
What you'll learn
Understand PostgreSQL Process and Memory Architecture.
Install PostgreSQL v12 on Windows and Linux.
How to Setup Environment Variable on Windows and Linux.
PostgreSQL Directory Structure.
PostgreSQL Configuration Files.
How to use PSQL command line interface to connect to PostgreSQL.
How to Create Database/User/Schema from utility and Psql commands.
Learn how to use pg system catalogs.
CRUD operations on PostgreSQL.
Table Inheritance in PostgreSQL.
Partitioning in PostgreSQL using Table Inheritance.
Copy table from/to PostgreSQL.
How to Create/Move/Drop Tablespace.
Logical (pg dump, pgdumpall), Physical backup (Offline, Online).
Continuous Archiving and PITR.
What is Explain plan and how to calculate cost of query.
Maintenance (Updating planner statistics, Vacuum, Routine Reindex, Cluster).
What is Transaction Id Wraparound Failure and Vacuum Freeze.
How to use Pgadmin 4 Interface.
Uninstall PostgreSQL on Windows and Linux.
Recommended Course
The Complete Python/PostgreSQL Course 2.0
The Complete Python & PostgreSQL Developer Course
Udemy Promotional Code - September 2023
This will also bring up a list of coupons and promo codes that you can use to get a discount on Udemy courses
The skills for now — now on sale. Online courses from $14.99.
Promotion Dates: 09/21/2023 - 09/22/2023
Clicks to
Redeem Udemy Coupon