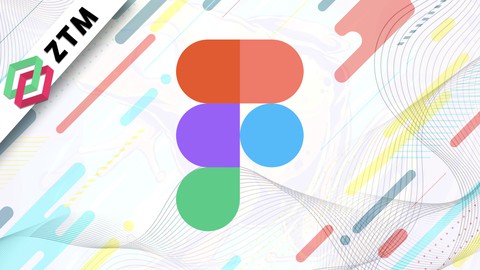 Motion Design with Figma: Animations, Motion Graphics, UX/UI
Figma like a Pro! Learn Motion Design on Mobile and Web using modern practices that top designers use + build projects!
Created by Andrei Neagoie, Daniel Schifano, Zero To Mastery | 13.5 hours on-demand video course
Just launched with all modern Motion Design principles and best practices for 2023! This is a project based course where we are going to learn by building many design projects to add to your portfolio together! Join a live online community of over 900,000+ students and a course taught by industry experts that have actually worked both in Silicon Valley and Toronto for top companies. Graduates of Andrei's courses are now working at Google, Tesla, Amazon, Apple, IBM, JP Morgan, Facebook, + other top tech companies.
Using the latest best practices in Motion Design, as well as User Interface and User Experience Design (UI/UX), this course focuses on efficiently teaching you all about building Interactions, Animations and Motion Graphic for all your future Web and Mobile App projects. We will be using Figma to accomplish this, which is now the #1 tool used by modern designers, and is replacing all outdated design tools of the past.
What you'll learn
Use Figma like a pro and get a job in User Interface Design, User Experience Design (UX/UI), Web Design or Mobile App Design
Learn to build Motion Design Prototypes with Figma and add Animations and Motion Graphics to your projects
Have an amazing design portfolio customized and professionally completed by the end of the course (we provide it for you!)
Build these projects: 1. Photo Inspiration App, 2. Nat Geo Carousel, 5. Smart Home Mobile App, 6.
Home Reno Web Landing Page and Form + more!
Learn to use Smart Animate in Figma
Learn UI/UX best practices using the latest trends in the industry
Learn the principles of Motion Design, the motion design process, best practices, and prototyping your projects for your customers and clients
Recommended Course by Andrei Neagoie
PyTorch for Deep Learning in 2023: Zero to Mastery [NEW COURSES]
Business Data Analytics & Intelligence with Python 2023 [NEW COURSES]
AWS Certified Cloud Practitioner | Master AWS Fundamentals
DevOps Bootcamp: Terraform Certification
Go Programming (Golang): The Complete Developer's Guide
The Excel Bootcamp in 2023: Zero to Mastery
Complete Angular Developer in 2023: Zero to Mastery
Complete Next.js Developer in 2023: Zero to Mastery
Complete NodeJS Developer in 2023 (GraphQL, MongoDB, + more)
Complete Python Developer in 2023: Zero to Mastery
The Complete Web Developer in 2023: Zero to Mastery
Complete Guide to Freelancing in 2023: Zero to Mastery
Web Security & Bug Bounty: Learn Penetration Testing in 2023
Complete Vue Developer 2023: Zero to Mastery (Pinia, Vitest)
TensorFlow Developer Certificate in 2023: Zero to Mastery
Complete React Native in 2023: Zero to Mastery [with Hooks]
Complete Ethical Hacking Bootcamp 2023: Zero to Mastery
Master the Coding Interview: Big Tech (FAANG) Interviews
Complete SQL + Databases Bootcamp: Zero to Mastery [2023]
JavaScript Web Projects: 20 Projects to Build Your Portfolio Resume
Complete Machine Learning and Data Science: Zero to Mastery 2023
JavaScript: The Advanced Concepts (2023 Update)
Complete React Developer in 2023 (w/ Redux, Hooks, GraphQL)
The Complete Junior to Senior Web Developer Roadmap (2023)
Master the Coding Interview: Data Structures + Algorithms
Complete Web & Mobile Designer in 2023: UI/UX, Figma, +more
Udemy Promotional Code - September 2023
This will also bring up a list of coupons and promo codes that you can use to get a discount on Udemy courses
The skills for now — now on sale. Online courses from $14.99.
Promotion Dates: 09/21/2023 - 09/22/2023
Clicks to
Redeem Udemy Coupon