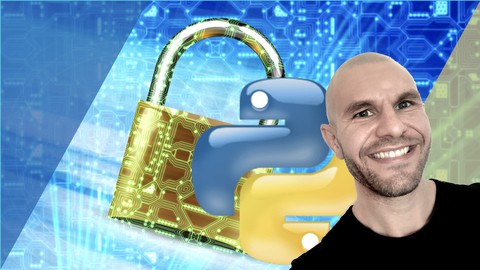 Master Modern Security and Cryptography by Coding in Python
Master the security of Stream Ciphers, Block Ciphers, Key Exchange, Public Key, Signatures, Shadow files all with Python
Created by Rune Thomsen | 7.5 hours on-demand video course
If you want to become a comfortable about encryption and security you need to have some basic understanding of the underlying security concepts. Understanding the main mistakes will enable you to implement and cryptographic algorithms in a correct manner. In this course we will cover all concepts and security concepts in cryptography to understand the full TLS/SSL protocol stack, how password validation is done and more. You will be learning along the way and implement the encryption and authentication algorithms along the way, making some mistakes to fully appreciate and understand the security flaws.
What you'll learn
Understanding of modern day cryptography
Key learnings from classical encryption systems that make the foundation of modern day cryptography
Understand common mistakes and why it is so difficult to get cryptographic algorithms correct
Understand and implement encryption algorithms like Stream Ciphers, Block Ciphers, Public Key
Implement and learn Diffie-Hellman Key Exchange algorithm
How hash functions are used in Digital Signatures, HMAC and password validation
Understand all concepts in the TLS/SSL protocol stack
Best of all… learn it all by writing the examples in Python – The best way to learn is to implement and see it for yourself
Recommended Course
Complete Python Developer in 2022: Zero to Mastery
LeetCode In Python: 50 Algorithms Coding Interview Questions
Udemy Promotional Code - September 2023
This will also bring up a list of coupons and promo codes that you can use to get a discount on Udemy courses
Learn Network & Security. Get complete video courses for as low as $12.99.
Promotion Dates: 09/01/2023 - 10/01/2023
Clicks to
Redeem Udemy Coupon