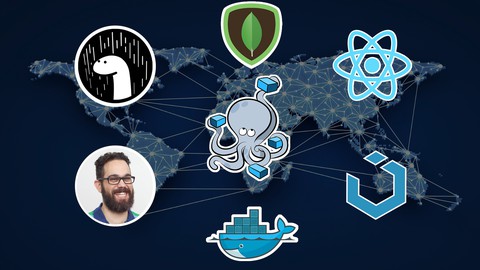 Master Deno, React, Mongo, NGINX running with Docker-Compose
Deno the new kid in town – How to use with Mongodb and React hooks running dev/prod in dockerized containers with NGINX.
Created by Icaro Lavrador | 21 hours on-demand video course
You just found the most comprehensive online resource on Deno, React Mongo, Docker, Docker-Compose and NIGNX available to date. This project-based course will introduce you, step by step to all of the modern tools that all top the line Deno and React developer should know in 2020. We will build together a strong foundation during the course of this project, starting with Docker and Docker-Compose.
We will learn how to Dockerize all the applications we will need, creating no one or two Docker containers but four, we will learn how:
Create a Docker Image to host our Deno Application with hot-reload function
Create a Docker Image to host our Rect Drag'n'Drop application also with hot-reload
Create a Dockerized MongoDb container where we will map the data to a volume on our machine, so we never miss the data.
Create a NGINX Docker container to proxy the request between the API requests and the Front-End Requests.
Recommended Course
Deno: The Complete Guide Zero to Mastery