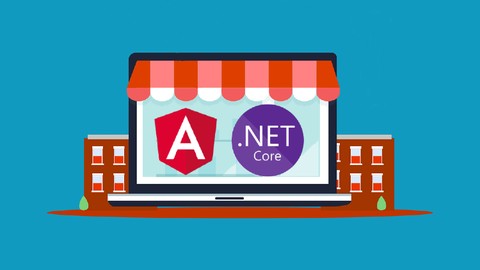 Learn to build an e-commerce app with .Net Core and Angular
Build a proof of concept e-commerce store using Angular, .Net Core and Stripe for payment processing
Created by Neil Cummings | 34 hours on-demand video course
Have you learnt the basics of ASP.NET Core and Angular? Not sure where to go next? This course should be able to help with that. In this course we start from nothing and build a proof of concept E-Commerce store using these frameworks.
In this course we build a complete application from start to finish and every line of code is demonstrated and explained.
Here are some of the things you will learn about in this course:
Setting up the developer environment
Creating a multi project .net core application using the dotnet CLI
Creating a client side front-end Angular UI for the store using the Angular CLI
Learn how to use the Repository, Unit of Work and specification pattern in .net core
Using multiple DbContext as context boundaries
Using ASP.NET Identity for login and registration
Using the angular modules to create lazy loaded routes.
Using Automapper in ASP.NET Core
Building a great looking UI using Bootstrap
Making reusable form components using Angular Reactive forms
Paging, Sorting, Searching and Filtering
Using Redis to store the shopping basket
Creating orders from the shopping basket
Accepting payments via Stripe using the new EU standards for 3D secure
Publishing the application to Linux
Many more things as well
Recommended Course
Complete guide to building an app with .Net Core and React
Laravel 6 PHP Framework A – Z Build Professional Ecommerce
Udemy Coupons - December 2022
Get Certified! IT Certification courses starting from $12.99.
Promotion Dates: 01/12/2022 - 01/01/2023
Clicks to
Redeem Udemy Coupon