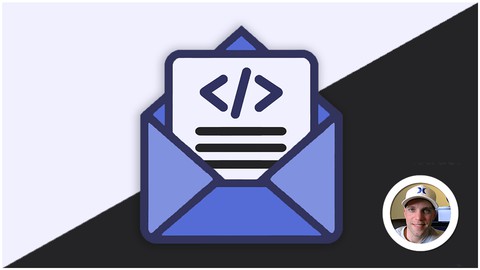 HTML Email Mastery – Build Responsive HTML Email Templates
Learn how to build Responsive Dark Mode Friendly HTML Email Templates tested on 82+ email clients including Outlook.
Created by Drew Ryan | 5 hours on-demand video course
HTML Email Development is one of the less talked about front-end development skills yet it is highly desirable. Being a freelancer or having a career in HTML Email is HOT right now (2022). Freelancers make upwards of a thousand dollars to build responsive HTML email template layouts and developers are making over $50 per hour ($100,000 per year) building client-tested HTML emails.
In this course we'll build a Responsive Dark Mode HTML Email Template that has been test on 80+ email clients including new and old versions of Outlook. No need to worry about paying $100 per month for email client testing software services, during the course the code we layout for our email template will be tested live! This way you'll have a complete understanding of why we need certain coding practices to be compliant with all email clients.
What you'll learn
Responsive HTML Email Development in 2022
Design for Dark Mode Email Clients with CSS Media Queries
Build HTML Emails that Render 100% Across 80+ Email Clients Including Outlook
Learn How To Use Gifs in HTML Email, Background Image, Outlook Friendly Buttons, & More.
Recommended Course
HTML 5 & CSS 3 Mastery – Build Responsive Modern Websites