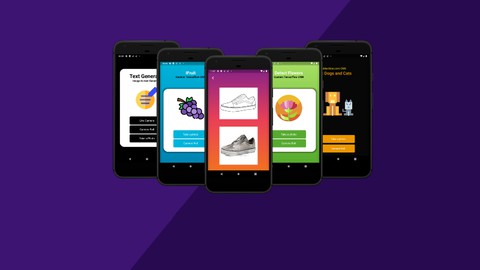 Deep Learning Course with Flutter & Python – Build 6 AI Apps
Build 6 Cutting-Edge Deep Learning Mobile Applications with Flutter & Python!
Created by Samuel Boylan-Sajous | 6.5 hours on-demand video course
Join the most comprehensive Flutter & Deep Learning course on Udemy and learn how to build amazing state-of-the-art Deep Learning applications! Do you want to learn about State-of-the-art Deep Learning algorithms and how to apply them to IOS/Android apps? Then this course is exactly for you! You will learn how to apply various State-of-the-art Deep Learning algorithms such as GAN's, CNN's, & Natural Language Processing. In this course, we will build 6 Deep Learning apps that will demonstrate the tools and skills used in order to build scalable, State-of-the-Art Deep Learning Flutter applications!
What you'll learn
Learn how to build State-of-the-Art algorithms in Python and then implement them into a Flutter application!
Build any Neural Networks in Python and then export them into your Flutter application.
Have a clear understanding of different types of Neural Networks and how you can use them to your advantage.
The tools and skills to develop any AI idea you have onto a mobile phone.
Use different strategies to get Neural Networks with 90%+ accuracy.
Building GAN in Python and Implementing it in Flutter
Building CNN in Python and Implementing it in Flutter
Implementing NLP Algorithms in Flutter
Recommended Course
The Complete 2021 Flutter Development Bootcamp with Dart
Modern AI Masterclass: Build 6 Real World AI Applications
Udemy Promotional Code - May 2023
This will also bring up a list of coupons and promo codes that you can use to get a discount on Udemy courses
Learn Data Science. Courses starting at $12.99.
Promotion Dates: 05/01/2023 - 06/01/2023
Clicks to
Redeem Udemy Coupon