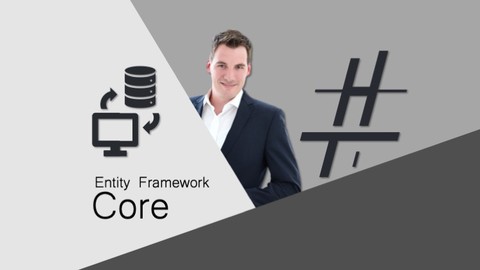 Entity Framework core: SQL Data Access with C# & .Net
Master Code & Db First Approach, Query API, Migrations & all Concepts of Entity Framework core with C# & .Net
Created by Timo H. | C# Development | .Net | DevOps | 4.5 hours on-demand video course
Entity Framework Core is the Default Technology in terms of SQL Database access with dotnet core. Almost every project with dotnet core nowadays will use it, so to push your skills, career and future salary you ought to learn this technology. As a dotnet core Developer you cannot move around this technology. This is why I made this course so you can profit from expertise of many years as a freelance developer. Also this course offers lots and lots of source code, extra insights and downloadable contents. It also tests everything you learned in a section with a Quiz as well as an Assignment. All topics are explained with a real world application which is in use to date (yet in a slightly simpliefied version).
What you'll learn
Fundamentals of Entity Framework Core
Code First & Database First Approach
Migrations with Entity Framework Core ( Create, Revert, Database update and more )
Advanced topics like ChangeTracking, SQL Queries, Query Evaluation and Performance
Bonus: SQL Basics, LINQ Basics, Docker Basics and VS Code
Recommended Course
Learn to build an e-commerce app with .Net Core and Angular
Devops Tools and AWS for Java Microservice Developers
Udemy Coupons Codes - August 2022
Code your future with Programming skills. Courses starting at $11.99 only!
Promotion Dates: 1/08/22 - 16/08/22
Clicks to
Redeem Udemy Coupon