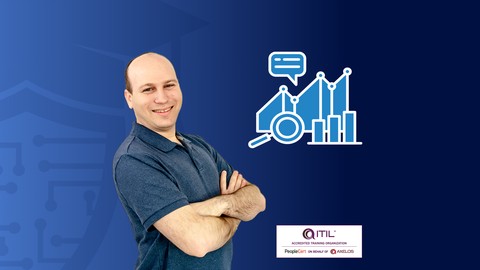 Creating Measures and Metrics using the ITIL 4 Framework
Learn how to design effective measurements in your organization using ITIL 4 to accurate measure your success!
Created by Jason Dion • 200,000+ Students Worldwide, Dion Training Solutions • ATO for ITIL & PRINCE2 | 1.5 hours on-demand video course
In this course, you will learn why we start with the overall organizational vision when developing our metrics, how to create proper objectives, measure those objectives using indicators, and picking the right metrics to measure what matters.
You will learn about the five types of measures used to track progress. You will also learn about various measurement models, such as the Planning and Evaluation Model, the Balanced Scorecard, the Organizational Improvement Cascade, the Value Driver Framework, and the Service Profit Chain.
Additionally, you will also learn about the five types of assessment models: the Gap Analysis, the SWOT Analysis, the Customer/User Satisfaction Assessment, the Benchmarking Assessment, and Maturity Assessments.
What you'll learn
You will understand the reasons why you should setup measurements and metrics in your organization
You will be able to develop custom measures and metrics based on your desired goals
You will learn the 5 different types of measurement models
You will learn the 5 different types of assessment methods
Recommended Course
Python Data Science with Pandas: Master 12 Advanced Projects