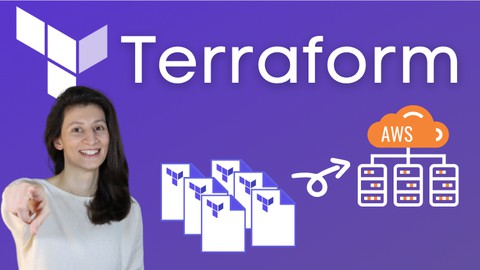 Complete Terraform Course – Beginner to Advanced
Learn Terraform with hands-on demos by automating AWS infrastructure
Created by Nana Janashia, Docker Captain Program | 6.5 hours on-demand video course
You will learn all the concepts with practical examples by automating the AWS infrastructure. AWS is the most used cloud provider and using Terraform with AWS is the most common combination used in projects, so knowing how to automate AWS infrastructure gives you an advantage in the DevOps job market!
What you'll learn
Core concepts and components of Terraform language
Fundamental networking concepts of AWS: VPC, Subnet, Security Group
Creating, changing and destroying resources with Terraform
Terraform commands, terraform state, variables, output values, environment variables
Automating AWS infrastructure like EC2, VPC, Subnet, Security Group, Route Table, SSH Key Pair using Terraform
Hands-on Demo project of creating AWS infrastructure step by step
How to use Terraform Provisioners to prepare a server for running a Docker container
Terraform Modules – How to modularize your Terraform configuration and how to use an existing Module from Terraform Registry
Why Terraform Remote State is important and how to configure a remote storage with AWS S3
Learn best practices along the way
Learn how to setup git repository and use Git to manage our Terraform configuration code as a best practice
Infrastructure as Code
Recommended Course
Azure Kubernetes Service with Azure DevOps and Terraform
DevOps Deployment Automation with Terraform, AWS and Docker
Udemy Promotional Code - September 2023
This will also bring up a list of coupons and promo codes that you can use to get a discount on Udemy courses
The skills for now — now on sale. Online courses from $14.99.
Promotion Dates: 09/21/2023 - 09/22/2023
Clicks to
Redeem Udemy Coupon