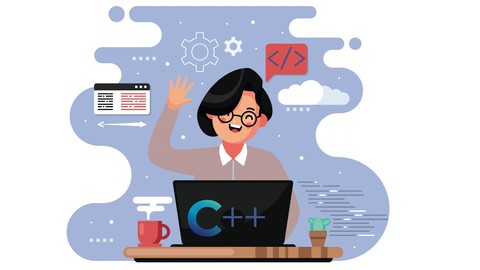 C++ Programming Step By Step From Beginner To Ultimate Level
Course is Specially designed for people who don't have knowledge about programming or want to ultimate C++ from scratch
Created by Lernen Hub Academy | 11.5 hours on-demand video course
This is Specially Designed course to covers C++ from very basic to Ultimate Level.You may be new to Programming or you have already Studied and Implemented Programming but still you feel that you need to learn more deep about C++ programming in detail so what are you looking for take this course today. After completing this course you will be confident enough to take up any challenging problem in coding using C++ Programming.
What you'll learn
Learn to program with one of the most powerful programming languages C++
Learn the concepts of Programming C++, Object oriented programming
Learn C++ using a curriculum that covers C++ material of most university courses
Be in a position to apply for jobs requiring good C++ knowledge
You will Learn Data Structure Concept
functions, overloading functions, passing variables to functions etc.
You will Test your knowledge and expertise with exercises
How to work with files – fstream library (i/o operation on files) operators – arithmetic, assigment, logical, bitwise conditions like if / else / switch arrays / multi-dimensional arrays loops – for / while / do-while
You will learn Includes Quizzes, Live Coding Exercises, Challenge Coding Exercises and Assignments etc
Recommended Programming Course
gRPC [Golang] Master Class: Build Modern API & Microservices
C# Basics for Beginners – Learn C# Fundamentals by Coding
Udemy Promotional Code - September 2023
This will also bring up a list of coupons and promo codes that you can use to get a discount on Udemy courses
The skills for now — now on sale. Online courses from $14.99.
Promotion Dates: 09/21/2023 - 09/22/2023
Clicks to
Redeem Udemy Coupon