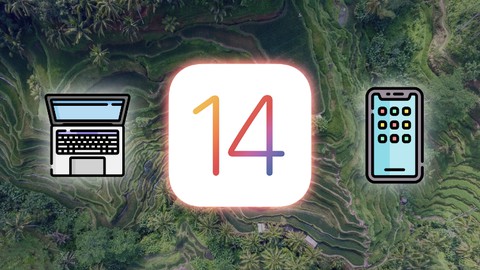 Build Your First iPhone App – iOS 14 Apps Using Swift 5
Create Apps and Submit Them to the App Store Using UIKit and Xcode 12 – Perfect Course for Complete Beginners
Created by Nick Walter | 9.5 hours on-demand video course
Welcome to my iOS 14 Course! If you're looking for a course that is fun and gets straight to the point, then this is the course for you. Apple released a TON of new stuff for developers at WWDC and this course will take you though everything you need to make awesome iOS 14 apps.
Other mega courses on Udemy offer 40+ hours of video content, but I wanted to create a course that was more manageable and didn't include any fluff. In each video I dive straight into the topic, and don't waste your time going over things that you don't really need. I only focus on the essentials, and I give you hands-on practice so that you can easily master the things we are learning!
This course is designed to be taken over a two week period, with 1-2 hours dedicated to learning each day. This course is easy to commit to because you won't get overwhelmed with a mountain of content, and you don't need to quit your day job to learn how to code!
What you'll learn
Xcode
Swift Programming
TableViews
CoreData (Mobile Database)
Connecting with JSON APIs
Designing with Storyboards
Widgets
App Clips
Submitting to the App Store
Recommended Course
iOS 13 & Swift 5 – The Complete iOS App Development Bootcamp
The Complete iOS 14 / iOS 13 Developer Course – and SwiftUI!
Udemy Promotional Code - June 2023
This will also bring up a list of coupons and promo codes that you can use to get a discount on Udemy courses
Learning for all. Online courses from $12.99
Promotion Dates: 06/06/2023 - 06/07/2023
Clicks to
Redeem Udemy Coupon