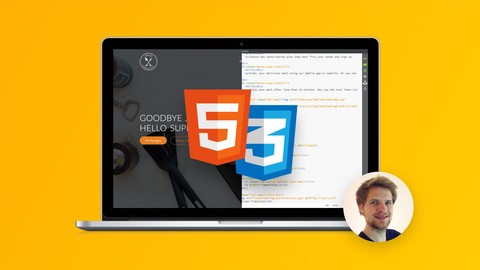 Build Responsive Real World Websites with HTML5 and CSS3
The easiest way to learn modern web design, HTML5 and CSS3 step-by-step from scratch. Design AND code a huge project.
Created by Jonas Schmedtmann | 12 hours on-demand video course
The #1 HTML5 and CSS3 course in the official Udemy rankings! Learn Step-by-step, you will learn more and more HTML5 and CSS3 features, from beginner to advanced. These are the latest web technologies, used by every website in the world. And we even added some jQuery to the mix. This huge project will teach you all the real-world skills to build real-world HTML5 and CSS3 websites. This will allow you to build any website you can imagine… From complete scratch.
What you'll learn
Real-world skills to build real-world websites: professional, beautiful and truly responsive websites
A huge project that will teach you everything you need to know to get started with HTML5 and CSS3
The proven 7 real-world steps from complete scratch to a fully functional and optimized website
Simple-to-use web design guidelines and tips to make your website stand out from the crowd
Learn super cool jQuery effects like animations, scroll effects and "sticky" navigation
Downloadable lectures, code and design assets for the entire project
Get helpful support in the course Q&A
Get my e-book "Best Resources for Web Design and Development with HTML5 & CSS3" for free
Recommended Course by Jonas Schmedtmann
Node.js, Express, MongoDB & More: The Complete Bootcamp 2021 [NEW COURSES]
The Complete JavaScript Course 2021: Build Real Projects!
Udemy Coupons & Promo Code August 2021

24-Hour Flash Sale! Udemy online courses from just $13.99

Region: Global

GET THIS OFFERS


>