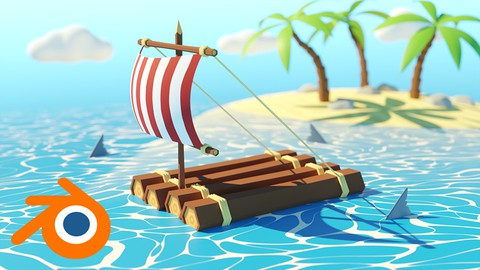 Blender for Complete and Total Beginners
The absolute best starting point for learning 3D Modeling and Rendering in Blender, a completely free 3D application.
Created by Chris Plush, CG Masters | 5.5 hours on-demand video course
Blender is perfect for anyone interested in learning 3D, because it's incredibly powerful and free. This full creation suite offers a complete range of artistic possibilities, including modeling, animation, rendering, compositing, video editing, and a lot more. So whether you're interested in creating games, producing animations, 3D printing, or anything else related to 3D, Blender has you covered with it's complete production toolkit.
Learning such an advanced piece of software can be intimidating though! There are a crazy amount of tools and it can be tricky to figure out where to start. That's what this course is for. This curriculum was designed to give you a clear understanding of the most fundamental concepts and tools, even if you have zero experience.
What you'll learn
The most fundamental concepts of 3D art and Blender.
All the essential tools for 3D modeling, texturing, and rendering.
Quick Start sections to quickly get you comfortable with the software.
Full step-by-step project on creating a fun pirate raft scene from start to finish.
Recommended Course