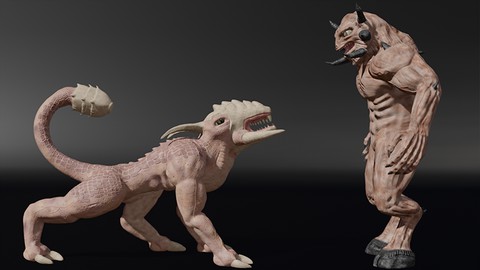 The Ultimate Blender 3D Sculpting Course
Learn the ins & outs of sculpting, retopology, rigging, texturing, animation & more for a complete sculpting workflow!
Created by Alex Cordebard | 36 hours on-demand video course
Learn 3D Sculpting from A-Z with the popular 3D program "Blender". Want to learn 3D Sculpting but don't know where to start? No problem! In this course we go from A-Z, from the basics to the more advanced of Sculpting. This course is project based so we will be using the skills we learn along the way to create some awesome Sculpts. Learn The Art of 3D Animation From The Very Basics to The More Advanced
What you'll learn
Students will learn the WHOLE sculpting workflow from A-Z, learn about anatomy, retopology, texturing, rigging and animating their sculpts
By the end of this course students will be able to sculpt whatever they want and make it into a full blown ready to render or animate character or leave it as a sculpt
By the end of this course students will be equipped with the skills to sculpt and have 4 awesome sculpts that they can be proud of
Students will sculpt 4 different sculpts from A-Z and go through the whole sculpt workflow so that they are proficient in sculpting
Recommended Course
Girl and the Dog Creation in Zbrush for Intermediate Level
Udemy Promotional Code - May 2023
This will also bring up a list of coupons and promo codes that you can use to get a discount on Udemy courses
Learn Data Science. Courses starting at $12.99.
Promotion Dates: 05/01/2023 - 06/01/2023
Clicks to
Redeem Udemy Coupon