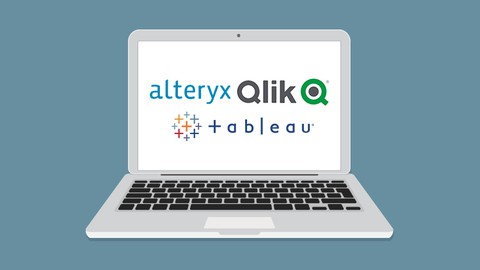 Big Data Visualization Toolkit (Tableau, Alteryx, QlikSense)
Get to grips with Tableau, Alteryx and QlikSense in this ultimate, must know, three course bundle
Created by Simon Sez IT | 25 hours on-demand video course
This course bundle includes practice exercises and downloadable data files. We live in a world where data dominates. If you want to get started with Data Analytics and Business Intelligence, then this Big Data Toolkit Bundle is a good place to begin. This HUGE Toolkit includes three full courses aimed at helping you become a big data expert in Tableau Desktop, Qlik Sense, and Alteryx.
What you'll learn
What Tableau is and the product suite
The Tableau interface and its major functions
Which data structures are suitable for Tableau
How Tableau reads and categorizes data
How to connect and manage data sources in Tableau
How to build a view and different chart types in Tableau
How to create a dashboard in Tableau
How to publish and share a workbook
How to use numeric, string, conditional, and analytical expressions/functions in Tableau
How to use calculated fields in Tableau
How to use Alteryx workflows to cut out repetitive tasks
How to build visual workflows in Alteryx
How to make the most of 'Favorite Tools' as core Alteryx building blocks
How to filter data in Alteryx
How to use the basic functions in Alteryx to match data
How to parse data in Alteryx
How to create reports in Alteryx that run on demand
How to become a Qlik Sense designer
How to load data in Qlik Sense
How to create and upload apps in Qlik Sense
All about the different charts and graphs available in Qlik Sense
How to create your analysis in the Story Telling tab
About numeric and string functions in Qlik Sense
How to use Conditional Functions
How to use the Qlik Sense Geo Analytics tools (maps)
Recommended Course
The Data Science Course 2021: Complete Data Science Bootcamp
Complete Machine Learning & Data Science Bootcamp 2021
Udemy Promotional Code - March 2023
This will also bring up a list of coupons and promo codes that you can use to get a discount on Udemy courses
Learning that lasts. Online courses from $14.99.
Promotion Dates: 03/28/2023 - 03/31/2023
Clicks to
Redeem Udemy Coupon