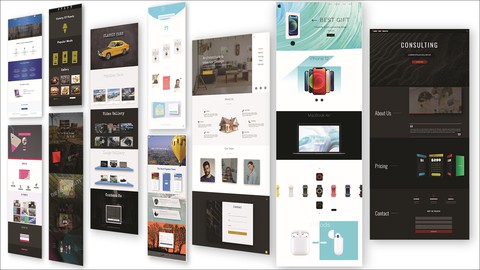 10 Mega Responsive Websites with HTML, CSS, and JavaScript
HTML, CSS, and JavaScript. Build 10 Big and Complete Responsive Websites with HTML, CSS, and JavaScript
Created by Code And Create, George Lomidze, Lasha Nozadze | 13.5 hours on-demand video course
***THE BRAND NEW COURSE***
10 Mega Responsive Websites with HTML, CSS, and JavaScript. Welcome to the brand new course where you can learn about how to create modern and beautiful design templates for your websites. If you want to build and customize your portfolio, become an experienced developer, and get hired, then this is the right course for you.
We will build together 10 mega and complete responsive websites with three core technologies HTML, CSS, and JS. If you have some basic knowledge of these technologies and still you have some trouble building the websites or if you want to level up your developer and designer skills, then you've come to the right place. We created this course in order to give students the best experience in three core technologies and give them the opportunity to create the best-designed templates that will allow them to excite their clients.
What you'll learn
10 Projects with pure HTML, CSS, and JavaScript
Modern Techniques and Tricks
Modern HTML5, CSS3, and JavaScript Features
CSS3 Animations, Transforms, and Transitions
How to create Modern Web Design Templates
Recommended Course
Complete Web & Mobile Designer in 2021: UI/UX, Figma, +more
The Complete 2020 Web Development Bootcamp
Udemy Coupons Codes - August 2022
Code your future with Programming skills. Courses starting at $11.99 only!
Promotion Dates: 1/08/22 - 16/08/22
Clicks to
Redeem Udemy Coupon