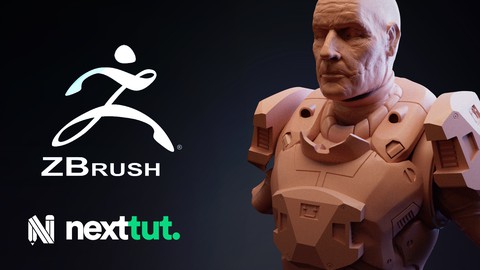 Zbrush 2022 Hard Surface Sculpting for Beginners
Be able to model and sculpt all sorts of hard surface props using Zbrush 2022.
Created by Nexttut Education Pvt.Ltd | 9.5 hours on-demand video course
Do you want to learn the tools and secrets to create hard surface models inside of Zbrush? Would you like to model guns, props and armor? If that is the case then I welcome you to Nexttuts Zbrush Hard Surface Techniques for Beginners. We will first learn about the most common techniques and we will then go over 5 different projects for you to follow along. This projects are designed to teach you the tools and workflow necessary to create amazing art. We will model simple objects like a pokeball, and then move on to more complicated assets such as a revolver, a knife, fantasy armor and Sci Fi Armor.
WHAT WILL I LEARN:
Modelling with Zmodeler
LiveBooleans Workflow
Polygroups and its uses
Mesh Generation Tecniques
Bevel Pro and Knife Brushes
Retopology and Decimation
Revolver Modelling
Knife Modelling
Sci-fi Armor Modelling
Fantasy Armor Modelling
Recommended Course
Stylized Cyberpunk girl in Zbrush course