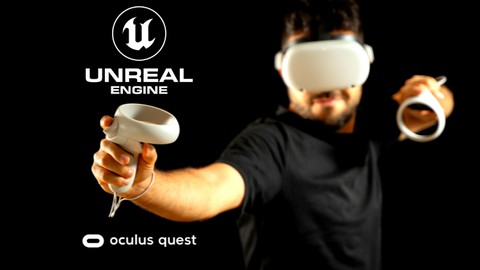 Unreal Engine VR Development Fundamentals
Learn how to build the basic VR mechanics from scratch in Unreal Engine 4 using Blueprints for Oculus Quest 2
Created by IRONHEAD Games | 5.5 hours on-demand video course
Unreal Engine from Epic Games will be one of the few tools empowering the Metaverse! So, that's why it is the best time to learn Unreal Engine VR Development. And we created this course just for that. In this course, you will quickly get started with your Unreal Engine career. We spent tons of time creating the tutorials so that you can save time and learn this complex topic in a very short time. At the end of this course, you will have built your own VR Template project that you can use on your projects. Also, you will have built a simple game, Escape From Train from the Blueprints section. Overall, you will have a solid understanding and starting project (you built!) for VR Development in Unreal Engine 5.
What you'll learn
Unreal Engine Blueprints Basics
Prototype VR Projects with Unreal Engine
Configuring Unreal Engine projects for VR Development
Building basic VR Mechanics from scratch
UI Interactions in Unreal Engine
Unreal Engine's Gameplay Framework
Recommended Course
VR Development Fundamentals With Oculus Quest 2 And Unity
Unreal VR Dev: Make VR Experiences with Unreal Engine in C++
Udemy Coupons - December 2022
Get Certified! IT Certification courses starting from $12.99.
Promotion Dates: 01/12/2022 - 01/01/2023
Clicks to
Redeem Udemy Coupon