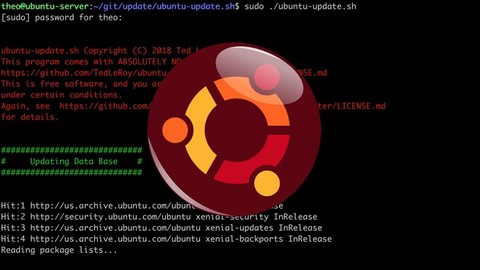 Ubuntu Linux Fundamentals Linux Server Administration Basics
Updated for Ubuntu 22.04 – The Latest! Gain essential skills with Linux Server in this 11 hour Beginner's course.
Created by Ted LeRoy | 11.5 hours on-demand video course
Ubuntu Linux is consistently among the top 5 Linux Desktop and Server distributions. Learn the basics of Linux Command Line and Server Administration in this course. Updated for Ubuntu 22.04, the latest Long Term Support (LTS) version. If you understand Linux, you understand the operating system that powers much of the Internet. This beginner level course will take you from knowing nothing about Linux to competency.
Along with System Administrators wanting to integrate Linux where it is appropriate within their environments, this course has proven useful to developers learning or working with Python, JavaScript, Web Development (HTML, CSS), Machine Learning, Java, MySQL, WordPress, Node.js, Amazon AWS, PHP, Docker, and to aspiring Ethical Hackers, Cyber Security, and DevOps to name a few.
What you'll learn
You will learn what Linux is
Linux distributions or "distros"
Ubuntu Linux history and how Ubuntu is differs from other distros
Installing Linux
Installing and using VirtualBox
Working at the command line
Adding and removing packages with apt
Configuring remote access
Securing remote access
Using remote access clients for Windows, MAC OS X, and Linux
Adding a non-root user and giving it sudo (root) permissions
Why you should use caution when working as root
Versioning configuration changes
Using the help systems available
Working with files
File permissions
Linking to files, sym or soft links, hard links, and inodes
Managing your server, ps, top, htop, nmon, df, free
Scheduling tasks with cron
Securing your server, ufw, apt update and upgrade
Stopping bad guys with Fail2ban
How to edit text files with two popular editors, vim and nano
Why you should save copies of system files before editing them, and how to do it
Installing and securing nginx web server
Recommended Course
Complete Linux Training Course to Get Your Dream IT Job 2022
Linux Shell Scripting: A Project-Based Approach to Learning
Udemy Promotional Code - May 2023
This will also bring up a list of coupons and promo codes that you can use to get a discount on Udemy courses
Learn Data Science. Courses starting at $12.99.
Promotion Dates: 05/01/2023 - 06/01/2023
Clicks to
Redeem Udemy Coupon