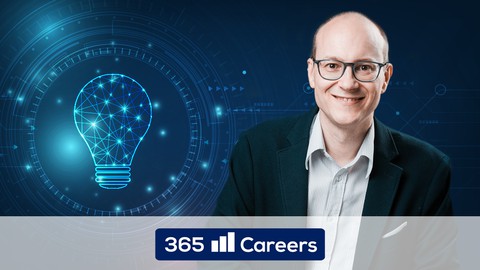 The Data Literacy Course: Learn How to Work With Data
Read, Understand, and Analyze Data
Created by 365 Careers, Olivier Maugain | 4 hours on-demand video course
Being data literate means having the necessary competencies to work with data. Regardless of your field of expertise – if you want a rewarding career path – you will certainly benefit from these skills. Any manager or business executive worth their salt is able to articulate a problem that can be solved using data. So, if you want to build a successful career in any industry, acquiring full data literacy should certainly be one of your key objectives. Someone who is data literate.
The course is organized into four main chapters. First, you will start with understanding data terminology – we will discuss the different types of data, data storage systems, and the technical tools needed to analyze data. Then, we will proceed with showing you how to use data. We'll talk about Business Intelligence (BI), Artificial Intelligence (AI), as well as various machine and deep learning techniques.
What you'll learn
Acquire Data Literacy
Learn from a Professional with a Proven Track Record and Valuable Experience
Master the Language of Data
Interpret Data Professionally
Become Familiar with Modern Business Analytics Techniques
How to Use Data to Improve Business Decisions
Advance Your Career
Make Better and Faster Decisions Using Data
Employ Data Effectively
Uncover Findings and Insights Independently
Recommended Course
R Programming A-Z™: R For Data Science With Real Exercises!
The Data Science Course 2021: Complete Data Science Bootcamp
Udemy Promotional Code - June 2023
This will also bring up a list of coupons and promo codes that you can use to get a discount on Udemy courses
Learning for all. Online courses from $12.99
Promotion Dates: 06/06/2023 - 06/07/2023
Clicks to
Redeem Udemy Coupon