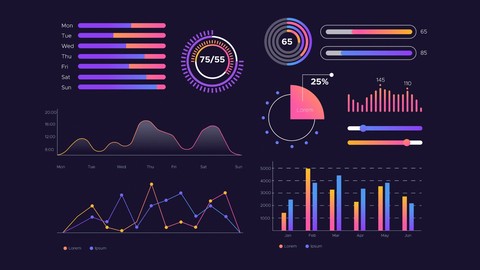 The Data Analyst Bootcamp™ 21 Real World Case Studies
Learn Statistics, Hypothesis Testing, Data Wrangling, Visualization & Dashboards with Google Data Studio and more!
Created by Rajeev D. Ratan, Nidia Sahjara | 15 hours on-demand video course
Data Analysts aim to discover how data can be used to answer questions and solve problems through the use of technology. Many believe this will be the job of the future and be the single most important skill a job application can have in 2020. In this course, you'll learn how to use Data, Analytics, Statistics, Probability, and basic Data Science to give an edge in your career and everyday life. Being able to see through the noise within data, and explain it to others will make you invaluable in any career.
What you'll learn
Understand the value of data for businesses
The importance of Data Analytics
The role of a Data Analyst
Learn to use Python, Pandas, Matplotlib & Seaborn, Scikit-learn
Learn Visualization Tools such as Matplotlib, Seaborn, Plotly and Mapbox
Hypothesis Testing and A/B Testing – Understand t-tests and p values
Unsupervised Machine Learning with K-Means Clustering
Machine Learning from Linear Regressions (polynomial & multivariate), K-NNs, Logistic Regressions, SVMs, Decision Trees & Random Forests
Advanced Pandas techniques from Vectorizing to Parallel Processsng
Statistical Theory, Probability Theory, Distributions, Exploratory Data Analysis
Ananlytic Case Studies involving Retail, Health, Elections, Sports, Resturants, Airbnb, Uber and more!
Full Tutorial on Google Data Studio for Dashboard Creation
Recommended Course
AWS Certified Big Data Specialty 2020 – In Depth & Hands On!
Data Science & Deep Learning for Business™ 20 Case Studies
Udemy Promotional Code - June 2023
This will also bring up a list of coupons and promo codes that you can use to get a discount on Udemy courses
Udemy Get Certified! IT Certification courses starting from $12.99
Promotion Dates: 06/01/2023 - 07/01/2023
Clicks to
Redeem Udemy Coupon