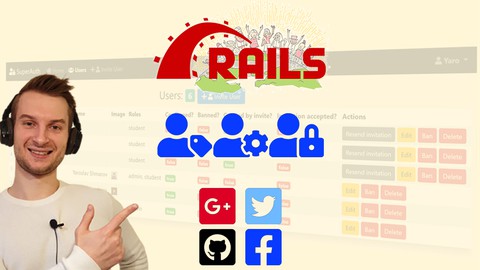 Ruby on Rails Crash Course: Authentication and Authorization
Code-Along and build a Web App MVP covering all aspects of Log-In and Role-Management functionality. ABCs of PRO WebDev
Created by Yaroslav Shmarov | 6.5 hours on-demand video course
This course can be interesting for Ruby on Rails developers of all levels: for beginners and for veterans. As a beginner, you will get the whole experience of thinking and building the core lifesystem of any modern Web Application. As a veteran, you will get acquainted with some exquisite approaches for problem-solving, and features that you could have not encountered in the past. We are not going to cover the fundamentals of what Ruby and Rails are: there are other, more basic courses for that. Instead, we will dive straight into coding along and building our application step-by-step, feature-by-feature. As well all enrolled students will have access to the source code, support materials and discussion groups.
What you'll learn
create, edit, invite, ban, unban, delete, inivte users to your app
gem devise for logging in
devise confirmable – confirm email to use app
devise lockable – ban / unban users
manage user roles
restrict user access based on roles
log in with google
log in with facebook
log in with twitter
log in with github
invite users via email with devise_invitable
connect Amazon SES email service for sending emails for free
deploy applications to production like a PRO
invisible recaptcha
Recommended Course
Ruby on Rails 6: Learn 25+ gems and build a Startup MVP 2021
The Complete Ruby on Rails Developer Course
Udemy Promotional Code - May 2023
This will also bring up a list of coupons and promo codes that you can use to get a discount on Udemy courses
Learn Data Science. Courses starting at $12.99.
Promotion Dates: 05/01/2023 - 06/01/2023
Clicks to
Redeem Udemy Coupon