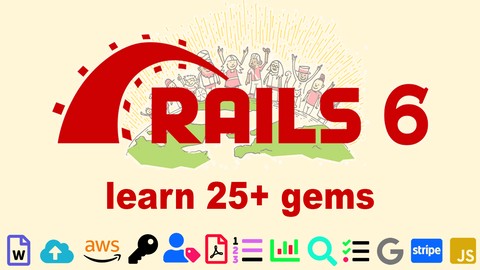 Ruby on Rails: Learn 25+ gems and build a Startup MVP 2023
Code-Along & build an advanced e-learning platform. Biggest, Most complete Ruby on Rails 6 course. Always updated.
Created by Yaroslav Shmarov | 20.5 hours on-demand video course
In this course you will learn to build your own e-learning platform (like an Udemy, Skillshare clone) while learning 25+ gems and multiple Rails features!
In this course you will:
gain the broad knowledge and skill needed to create basically any web application you can think of.
get acquainted with all the modern technologies needed to find a Junior Ruby on Rails Developer job.
create your own online learning platform that you will be able to monetize as you wish.
be granted access to the source code of the application that we will be building.
If you value your time and DON'T want to spend hours learning how a gem works, consider getting this course. By the end of the course you will feel capable of building any Web application Ruby on Rails web application. You may learn the skills needed to find a job, or build the application of your dreams. As well, you will build you own, complete application for creating and selling courses that you will be able to monetize. Also, if you want to learn more great ruby on rails features, consider subscribing to this course.
What you'll learn
How to build an online learning platform on Ruby on Rails 6
How to use Ruby on Rails 6 features
How to build a Web Application
Ruby on Rails 6
Recommended Course
The Complete Ruby on Rails Developer Course