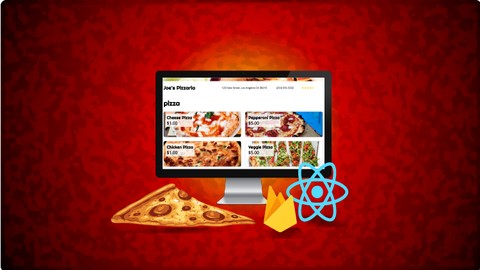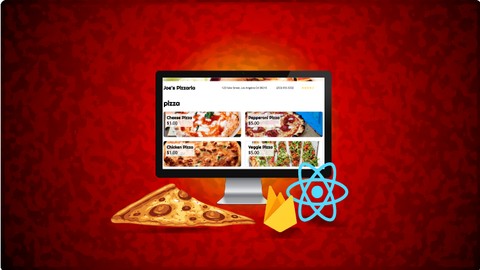 React Pizza Shop – Ordering Food with Hooks and Firebase
Build a Tasty Restaurant Ordering App with React Hooks, Firebase, and Styled-Components. Mamma Mia!
Created by react.school _ | 4.5 hours on-demand video course
Welcome to React Pizza Shop. Here's what we'll be building: A pizza ordering system with multiple types of foods and editable popup dialogs to customize your order with delicious items from a menu. We'll add interactivity with a variety of custom React Hooks. After authenticating with a Google account, we'll send this order to Firebase Realtime database and a serverless Firebase function will send your user an email confirmation of their order.
This course is intended for intermediate React developers looking for a fun project to practice React Hooks and/or learn Firebase. The full source code is provided. If you have any questions throughout the course, do not hesitate to reach out.
What you'll learn
Cutting-edge React Development with React Hooks : useState, useEffect and your own custom hooks
Build a Complete Pizza Ordering Application for Customizing Restaurant Orders and Emailing Users
Beautiful UI Development from Scratch with Food Grids, Popup Dialogs, Buttons, Input Controls and more
Styled-components : The hottest CSS-in-JS library featuring CSS animations and extendable component styling
Authenticate Users with Google to Login and Logout
Firebase Realtime Database : Save pizza orders on Google's Serverless Data Platform
Firebase Functions and Nodemailer: Respond to order generation by emailing users their order
Ecommerce Patterns : Adding, Removing and Editing Orders, Calculating Tax and Totals for Dynamic Food Items
Hosting : Deploy your app on the web with Firebase Hosting
Recommended React Course
Microfrontends with React: A Complete Developer's Guide
Build Web Apps with React & Firebase
Udemy Promotional Code - May 2023
This will also bring up a list of coupons and promo codes that you can use to get a discount on Udemy courses
Learn Data Science. Courses starting at $12.99.
Promotion Dates: 05/01/2023 - 06/01/2023
Clicks to
Redeem Udemy Coupon