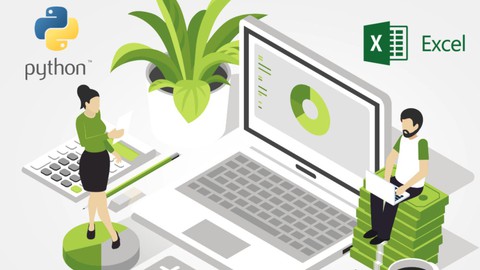 Python for Business Analysis and Excel
Supercharge your business analysis skills by using Python to analyze Excel data!
Created by Todd Hanford | 21 hours on-demand video course
This course uses real world business cases to demonstrate practical applications of Python. By the end of the course you will have a portfolio of business analysis examples that will prove your mastery over Python. This includes:
Customer segmentation analysis – we'll look at a large set of customer data and tease out different customer segments which are more profitable. This will allow the marketing department to determine which groups to target. We'll focus on parents with babies and analyze how much money they spend and what their demographic characteristics look like.
Production bottleneck analysis – we'll look at the production line of a car factory to understand which machines are causing delays in completing the final cars. Using this analysis, we'll make recommendations on which new machines to invest in. Additionally, we'll look at how often machines break down and how this contributes to delays.
Seasonality – we'll analyze daily, monthly, and quarterly trends in a clothing manufacturers sales to understand which times of year produce the best results. We'll also look at how profit margins change over time.
Marketing promotion – we'll create a return on investment (ROI) analysis for a proposed marketing campaign and then analyze the actual results to determine whether our ROI analysis was accurate.
Recommended Course
Python for Excel: Use xlwings for Data Science and Finance
2021 Complete Python Bootcamp From Zero to Hero in Python
Udemy Promotional Code - March 2023
This will also bring up a list of coupons and promo codes that you can use to get a discount on Udemy courses
Learning that lasts. Online courses from $14.99.
Promotion Dates: 03/28/2023 - 03/31/2023
Clicks to
Redeem Udemy Coupon