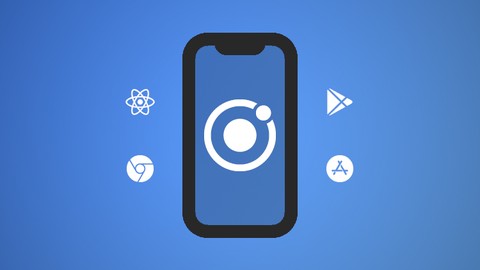 Ionic React: Cross-Platform Mobile Development with Ionic 5
Create mobile web apps and native Android/iOS apps from a single code base with React, Ionic Framework 5, and Firebase.
Created by Mirko Nasato | 9 hours on-demand video course
Ionic React lets you build mobile websites as well as native Android and iOS apps from a single code base, using familiar web technologies such as JavaScript/TypeScript, HTML, and CSS. This course will introduce you to Ionic step by step, starting from a standard React app and gradually adding more and more Ionic components.
Then it will guide you through developing a simple but complete app that includes some form elements and a chart (based on Recharts), and show you how to build this app not only as a mobile website but also as a native Android and iOS app with Capacitor.
In the latter sections, you will learn how to build a more complex application featuring page navigation / routing and integration with a Firebase backend, including handling user authentication, storing data in the Cloud Firebase database, and uploading user-generated files to Cloud Storage. This course is based on version 5 of the Ionic Framework.
What you'll learn
Develop mobile apps using web technologies with Ionic and React
Build a mobile website as well as Android and iOS native apps from the same code base
Integrate with a Firebase backend to handle user authentication and store data
Recommended Course
Ionic 6+ with NodeJs – Complete Beginner to Pro Course 2022
Ionic – Build iOS, Android & Web Apps with Ionic & Angular
Udemy Promotional Code - March 2023
This will also bring up a list of coupons and promo codes that you can use to get a discount on Udemy courses
The skills for now — now on sale. Online courses from $13.99
Promotion Dates: 03/21/2023 - 03/24/2023
Clicks to
Redeem Udemy Coupon