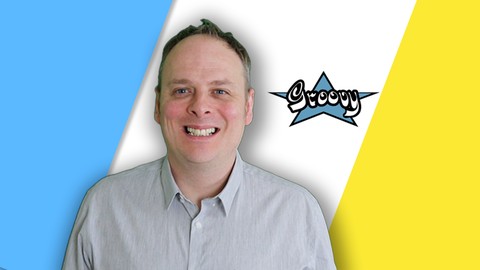 Groovy Programming Fundamentals for Java Developers
Supercharge your productivity by understanding the quickest way to write Java-based applications!
Created by Matt Speake | 2.5 hours on-demand video course
Welcome to the wonderful world of Groovy! In this course, we take you step-by-step through the most common features and programming idioms of the Groovy programming language enabling you to supercharge your developer productivity by harnessing the power of Groovy's lightweight and succinct programming syntax!
We'll explore Groovy's lightweight and powerful syntax which slashes development time down to at most a quarter of the time you'd spend in writing the equivalent Java program!
As a Java developer of over 20 years programming in the main investment banks of the world, I'm proficient in Java for sure. But in spite of the skill level I have in Java, Groovy is still my number one go-to language when it comes to knocking up quick scripts to automate drudge work and even for writing full scale applications too (using other frameworks such as Grails and Griffon).
What you'll learn
The fundamentals of the Groovy programming language
How to write and adapt Groovy scripts
How to read Groovy and understand how a Groovy program functions
Recommended Course
The Complete Java Developer Course: From Beginner to Master!
Clean Code with Java: Learn Simple Design, Refactoring & TDD
Udemy Promotional Code - June 2023
This will also bring up a list of coupons and promo codes that you can use to get a discount on Udemy courses
Udemy Get Certified! IT Certification courses starting from $12.99
Promotion Dates: 06/01/2023 - 07/01/2023
Clicks to
Redeem Udemy Coupon