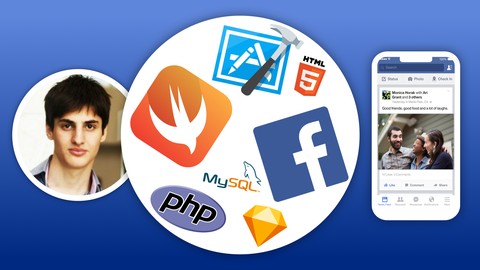 Develop Full iOS Facebook Clone App in Swift, Xcode and PHP
Best Swift Course Ever | Build Complete Facebook Clone | All Features & Functionalities | Build Custom Backend Server
Created by Akhmed Idigov | 48 hours on-demand video course
Do you want to be cooler than Mark Zuckerberg who created the Facebook? Now YOU CAN DO IT as well!
Do you want to write a code so easily like you type a message to your best friend? Now YOU HAVE A CHANCE to learn it. Don't miss it!
In this course, we're learning how to create the FULL Facebook for iOS from scratch. We're programming all functions and features used by Mark Zuckerberg in his Facebook. Firstly, we're building the logic of the function by using the schemes and patterns to understand it very well. Secondly, we're writing a professional code which runs swiftly. Thirdly we're programming the appearance and the behavior of the user interface. These main Three Steps are well known among the high paid developers. And now we're working within the same model.
What you'll learn
Learn to create the entire Facebook from scratch.
Easily program in Swift.
Easily program in PHP.
Easily write complicated and advance MySQL scripts.
Learn the entire Backend Development.
Easily building complicated, advance and professional logics.
Easily code in the most advance and professional manner which never been taught before.
Recommended Course
Facebook Clone with Laravel, TDD, Vue & Tailwind CSS
Create a Netflix clone from Scratch: JavaScript PHP + MySQL
Udemy Promotional Code - June 2023
This will also bring up a list of coupons and promo codes that you can use to get a discount on Udemy courses
Udemy Get Certified! IT Certification courses starting from $12.99
Promotion Dates: 06/01/2023 - 07/01/2023
Clicks to
Redeem Udemy Coupon