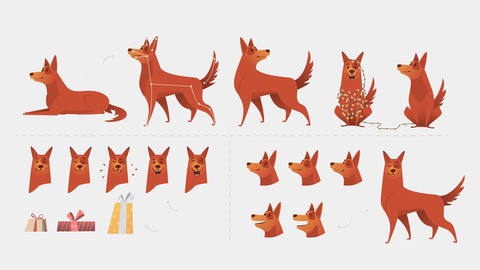 Creative Advanced CSS Animations – Create 100 Projects!
Master Advanced CSS Animations, Transitions and Transforms And Practice with 100 Creative Projects
Created by Ahmed Sadek | 13 hours on-demand video course
Css animation is quickly becoming an essential design tool that's increasingly used to help our users understand and interact with our websites. It's definitely the next big step in css! Absolutely amazing things can be done with it. It's literally up to your imagination! It gives life to your website and enhances the user experience and you know better user experience means a higher reputation and more satisfied visitors. So css animations, transitions, and transforms are critical skills for any web developer nowadays…and I'm here to make sure you learn it the right way. So in this course you will master css animations, transitions, and transforms, starting from scratch
What you'll learn
master CSS animations, transitions and transforms
create more than 100 different examples using CSS animations, transitions and transforms
be able to create any creative CSS animations they can think of
master the CSS clip-path property and learn how to use it in animating html elements
create different buttons, images, cards, loaders, menus creative effects and so much more
Recommended Course
CSS – The Complete Guide 2023 (incl. Flexbox, Grid & Sass)
50 Projects In 50 Days – HTML, CSS & JavaScript
Udemy Promotional Code - September 2023
This will also bring up a list of coupons and promo codes that you can use to get a discount on Udemy courses
The skills for now — now on sale. Online courses from $14.99.
Promotion Dates: 09/21/2023 - 09/22/2023
Clicks to
Redeem Udemy Coupon