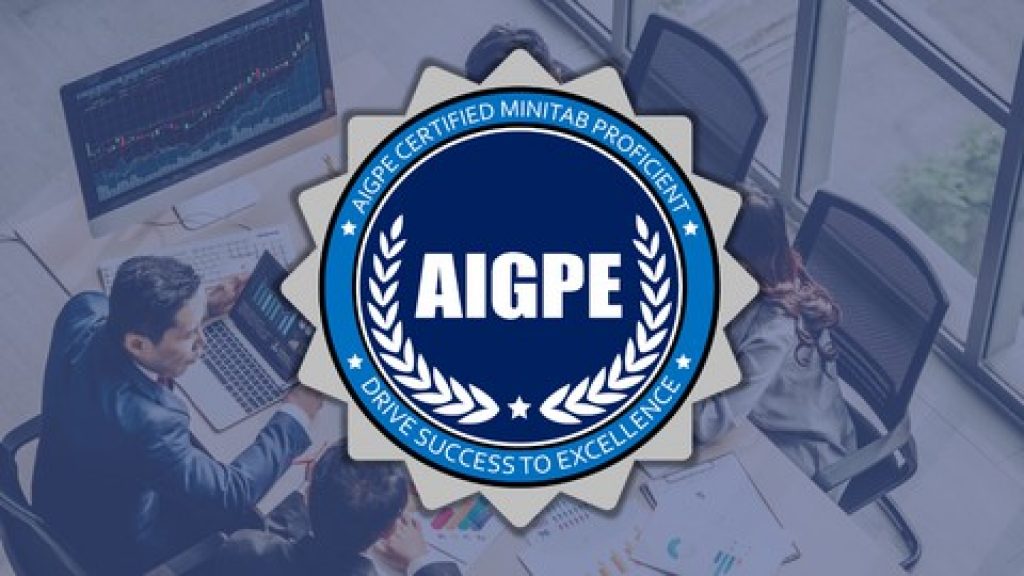 Certified Minitab Proficient: SPC Control Chart (Accredited)
Certified Minitab Proficient (Accredited) | SPC Control Charts on Minitab | Minitab Proficient Certification | Earn PDUs
Created by Advanced Innovation Group Pro Excellence (AIGPE) | 2 hours on-demand video course
CERTIFIED MINITAB PROFICIENT: MASTER TOP 7 SPC CONTROL CHARTS TOOLS ON MINITAB (ACCREDITED) | Earn Accredited Minitab Proficient Certification | 2 official PDUs | CPDs | CEUs
NOTE: Students who complete the Minitab Beginner and Minitab Proficient Certification courses are offered the opportunity to apply for an optional Minitab Proficient Certification Exam, free of charge. Passing this certification exam enables you to earn the officially accredited Minitab Proficient Certification. This external exam, which is both optional and free (for the first two attempts), takes place off the Udemy platform. It requires registration (name, email, and your Udemy certificate) and is administered by AIGPE™ (Advanced Innovation Group Pro Excellence), a global Lean Six Sigma Credentialing Organization serving professionals in 180+ countries across various industries.
INDUSTRY RECOGNIZED ACCREDITED MINITAB PROFICIENT CERTIFICATION:
AIGPE™ is the Official Authorized Training Partner (ATP) of the globally recognized Project Management Institute (PMI®) (Provider No. 5573). The PMI® Authorized Training Partner seal is a registered mark of the Project Management Institute, Inc. This Minitab Proficient Training Program and the Minitab Proficient Certification you receive is accredited by the globally renowned CPD Certification Service (Provider No: 14627, Certificate No: AO29014-12). Plus, 2 official PDUs/CPDs/CEUs are available upon request by completing this Minitab Proficient Certification Course.
Want to become a Minitab Data Analyst? If so, you've come to the right place!
This Minitab Masterclass provides you with a practical perspective of learning Minitab. This is one of the Best Minitab training programs available online that not only provides you with step-by-step instructions to use the different Minitab tools but also enhances your Minitab Analytical skills.
What you'll learn
Demonstrate the use of Minitab to Create Control Charts
Define Control Limits and Specification Limits
Employ Leading and Lagging Indicators using Statistical Process Control
Enlist the Steps to Select the Correct Control Chart for Continuous and Discrete Data
Outline the Characteristics of an In-Control and Out-of-Control process
Construct several Control Charts such as I-MR, X-R, X-S, np, p, c, and u chart
Use Control Charts to Monitor the Performance of Your Business Process
Recommended Course