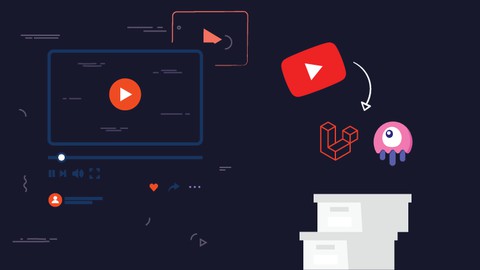 Building Youtube Clone Using Laravel and Livewire
Complete Course to build Youtube Clone using Livewire and Video Encoding Using FFMPEG.
Created by Abdulaziz Al Zaabi | 7 hours on-demand video course
Join me in Building YouTube Clone Using Livewire Application Journey. You will need basic Knowledge in Laravel. I will go through building it kind of live coding style in which you can see me making mistakes and learn how we can correct it . On Challenge in Website that contains videos is how to encode videos ? How I can generate thumbnail ? how to play videos in all browsers . All of these points will be address using FFMPEG . We are going to use Alpinejs as basic javascript library to help us to build some dynamic in front-end !
What you'll learn
Learn How to make Youtube Clone Website Using Laravel
How to install and use Livewire 2.0
Learn Video Processing/Encoding using FFMPEG
Learn File Upload in Livewire
Learn Image Manipulation using Image Intervention Package
Create Voting System (Like/Dislike)
Create Comment System
How to create Jobs and how to dispatch them using Queues in Laravel
How make big applications with complex login like youtube .
Learn about FrontEnd using Bootstrap Framework and custom CSS When needed
Recommended Course
Building An Instagram Clone With No-Code Using Bubble
Create a Twitter Clone with Node.js, Socket.IO and MongoDB
Create a Netflix clone from Scratch: JavaScript PHP + MySQL
Udemy Coupons - December 2022
Get Certified! IT Certification courses starting from $12.99.
Promotion Dates: 01/12/2022 - 01/01/2023
Clicks to
Redeem Udemy Coupon