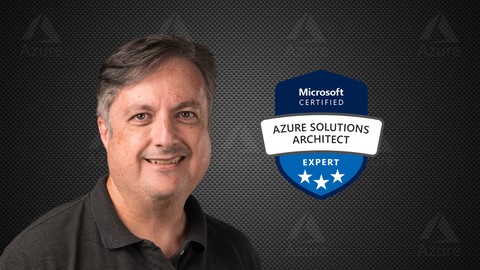 AZ-303 Azure Architecture Technologies Exam Prep
Prove your Azure Architect Technology skills to the world. Complete AZ-303 course.
Created by Scott Duffy | 12.5 hours on-demand video course
COURSE CONTINUALLY UPDATED SINCE LAUNCH – LAST UPDATE SEP, 2021. Complete preparation for AZ-303 Azure Architect Technologies exam. Exam update overview. 11 unique Hands-On Labs practice assignments added. New videos around Virtual WAN, Dedicated Hosts, RBAC access to storage, and Azure Front Door Service. New videos around Storage Account Fail over and Application Security Groups.
What you'll learn
Know how to design solutions for the Microsoft Azure platform
Pass the Microsoft AZ-300 Azure Architect Technologies test the first time
Understand the main concepts of Azure, beyond the ones you normally use
Be up-to-date on the latest updates to this ever-changing platform
Recommended Course
AZ-900: Microsoft Azure Fundamentals Exam Prep 2023
DP-100: Azure Machine Learning & Data Science Exam Prep 2023