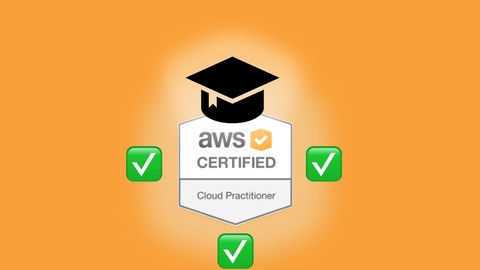 [ 6 Full Exam Tests ] AWS Certified Cloud Practitioner 2020
✅ 6 Full Exam Tests (65Qs each) ✅ 390 Qs Total ✅ Detailed Breakdown / Answers ✅ References to AWS Official Documentation
Created by XaaS Technologies | AWS Cloud & Cyber Security | 6 Practice Tests course
The AWS Certified Cloud Practitioner examination is intended for individuals who have the knowledge and skills necessary to effectively demonstrate an overall understanding of the AWS Cloud, independent of specific technical roles addressed by other AWS Certifications. The exam can be taken at a testing center or from the comfort and convenience of a home or office location as an online proctored exam.
6 complete high-quality practice tests of 65 questions each will help you master your AWS Certified Cloud Practitioner exam (CLF-C01):
These practice exams will help you assess and ensure that you are fully prepared for the final examination.
Any question you might fail will contain first an explanation and then a link to the AWS Official documentation explaining the concepts in depth.
I recommend you re-watch video lectures in the main course to go over again AWS services you don't feel confident about.
Recommended IoT Course
Data Science & Deep Learning for Business™ 20 Case Studies
Complete 2020 Data Science & Machine Learning Bootcamp
Udemy Coupons - December 2022
Get Certified! IT Certification courses starting from $12.99.
Promotion Dates: 01/12/2022 - 01/01/2023
Clicks to
Redeem Udemy Coupon