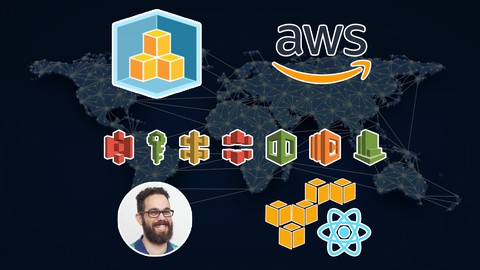 Infrastructure as Code, Master AWS Cloud Development Kit CDK
AWS Cloud Development Kit (AWS CDK) Create and provision AWS infrastructure as code. Deployments predictably &repeatedly
Created by Icaro Lavrador | 3.5 hours on-demand video course
AWS Cloud Development Kit (AWS CDK). Welcome to the AWS Cloud Development Kit (AWS CDK) Developer Guide. This document provides information about the AWS CDK, which is a software development framework for defining cloud infrastructure in code and provisioning it through AWS CloudFormation.
AWS CloudFormation enables you to:
Create and provision AWS infrastructure deployments predictably and repeatedly.
Leverage AWS products such as Amazon EC2, Amazon Elastic Block Store, Amazon SNS, Elastic Load Balancing, and Auto Scaling.
Build highly reliable, highly scalable, cost-effective applications in the cloud without worrying about creating and configuring the underlying AWS infrastructure.
Use a template file to create and delete a collection of resources together as a single unit (a stack).
Use the AWS CDK to define your cloud resources in a familiar programming language. The AWS CDK supports TypeScript, JavaScript, Python, Java, and C#/.Net.
Recommended Course
React – AWS Amplify build a complete serverless app w/ CI/CD
Serverless Programming using AWS Lambda for Java Developers
Udemy Promotional Code - September 2023
This will also bring up a list of coupons and promo codes that you can use to get a discount on Udemy courses
Get ahead, stay ahead. Online courses as low as $14.99.
Promotion Dates: 09/26/2023 - 09/29/2023
Clicks to
Redeem Udemy Coupon