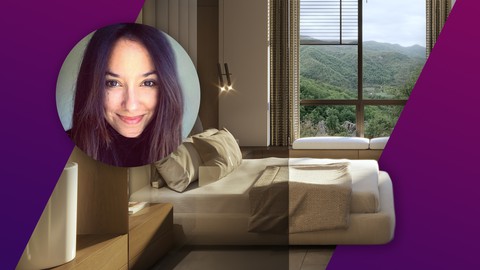 3ds Max + V-Ray: Complete 3D Photorealistic Rendering Course
Create Beautiful Photorealistic 3D Renderings with 3ds Max + V-Ray | Taught by an award-winning 3ds Max + V-ray designer
Created by Video School, Phil Ebiner, Margarita Nikita | 7 hours on-demand video course
This 3ds Max + V-Ray course will teach you the entire process of designing interior spaces from scratch. From camera position and lighting, to adding realistic materials – you'll learn it all in this course. Not only will you learn how to create your 3D renderings, you'll also learn how to get a job with your new skills. Your instructor co-founded and runs a successful 3d rendering company, and will share what it takes to land a job in this industry. 3ds Max is the industry standard modeling and rendering software for visualizations. V-Ray is a plugin that adds the ability to easily create photorealistic images to 3ds Max. This course focuses on photorealistic 3d renderings.
What you'll learn
Create your own photorealistic renderings from scratch with 3ds Max + Vray
Become confident using 3ds Max + V-Ray
Find paid work & get a job with your 3ds Max + V-Ray skills
Render setup with V-Ray
Place cameras & understand camera settings
Add natural & artificial lighting to your scene
Add materials to make your scenes photorealistic
Create 360° photos and virtual tours
Work with ArchiCAD & 3ds Max together
Learn the basics of 3ds Max – perfect for anyone brand new to this application
Recommended Course
Complete Web & Mobile Designer in 2021: UI/UX, Figma, +more
Freelance Web Design: From Figma to Webflow to Upwork
Udemy Coupons - December 2022
Get Certified! IT Certification courses starting from $12.99.
Promotion Dates: 01/12/2022 - 01/01/2023
Clicks to
Redeem Udemy Coupon