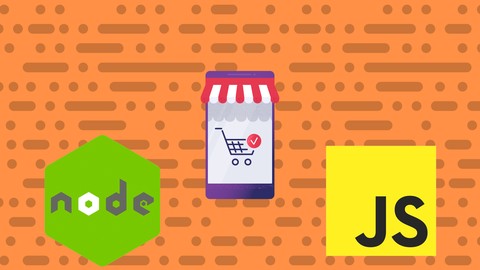 Build Ecommerce Like Amazon By JavaScript, Node & MongoDB
The most up-to-date JavaScript course. Build a massive ECommerce app with Vanilla JS, Node, Express, MongoDB, Mongoose
Created by Bassir Jafarzadeh | 10 hours on-demand video course
Welcome to my coding course to build an eCommerce website like amazon. In this course, you will learn the essential tools and skills to design, develop, and deploy a fully-function website like amazon using Vanilla JavaScript, HTML5, and CSS3 in frontend and Node and MongoDB in the backend.
I designed this course for anyone seeking to develop a fully-functional eCommerce website like amazon. By the end of this course, you'll be able to design a responsive web template, implement a user-friendly frontend, and build a scalable backend. Also, you can deploy your website on cloud servers like Heroku and connect it to payment gateways like PayPal.
What you'll learn
HTML5 and CSS3: Semantic Elements, CSS Grid, Flexbox
JavaScript Basics: Functions, Array, Events
JavaScript Intermediate: DOM, Rendering Content, Routing URLs
JavaScript Advanced: ES6 Features Like Arrow Function, Asynchronous Programming
Nodejs: Web API, Body Parser, File Upload, JWT
MongoDB: Database Modeling, Mongoose, Filter, Aggregation
Development: ESLint, Babel, Git, Github, VS Code
Deployment: Heroku, MongoDB Atlas, Amazon S3 Storage
Recommended Course
React Js With Laravel Build Complete PWA Ecommerce Project
Django with React | An Ecommerce Website
Udemy Coupons - December 2022
Get Certified! IT Certification courses starting from $12.99.
Promotion Dates: 01/12/2022 - 01/01/2023
Clicks to
Redeem Udemy Coupon