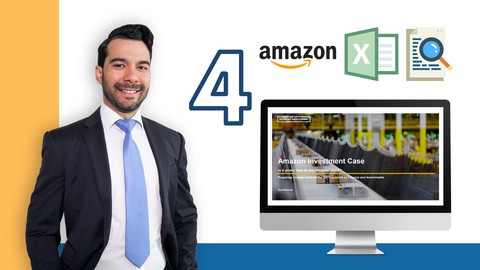 The Complete 2020 Amazon Stock Analysis Training Course
Learn stock analysis, investing, financial modeling and valuation with a professional Analyst
Created by Luis Romero | 13 hours on-demand video course
Shorten the learning curve. Learn the skills and gain the hands-on experience needed to become a professional analyst. Our Amazon Stock Analysis Training Course explores common valuation techniques used by Wall Street professionals to value companies. The course has been designed with "on the job" experience. The primary focus of the course is to teach students the practical applications of theoretical methodologies. In our case study, we will value the target company and determine whether it is overvalued or undervalued by the market.
This course was carefully designed to teach students all the technical skills needed for a career in finance as a financial analyst. These skills are applied by finance professionals each day on the job. Our curriculum and content are grounded with best industry practices giving you a full immersion into the world of a professional analyst. By the end of the course, you will have a strong understanding of the process of stock analysis, company valuation and structuring an investment case. You will master the skills applied by professionals on Wall Street each day.
What you'll learn
How to value a company from a professional analyst perspective
The essentials of discounted cash flow analysis modeling using Excel
How to perform sensitivity analysis table
Terminal EBITDA & DCF valuation methods
Perpetuity DCF valuation method
Football Field analysis
How to perform company due diligence
How to spread trading comps
Many more concepts
Recommended Course
The Data Analyst Bootcamp™ 21 Real World Case Studies
Manage Finance Data with Python & Pandas: Unique Masterclass
Udemy Coupons - December 2022
Get Certified! IT Certification courses starting from $12.99.
Promotion Dates: 01/12/2022 - 01/01/2023
Clicks to
Redeem Udemy Coupon