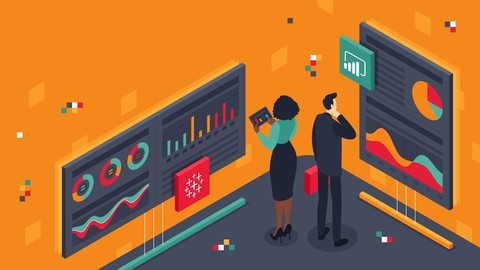 Power BI vs Tableau: Ultimate Dashboard Masterclass
Go hands-on with not one but two BI tools. Learn Power BI and Tableau: Build 12 dashboards from 6 industries.
Created by Ligency Team | 5.5 hours on-demand video course
The business intelligence market is booming, with an expected growth rate of 12% over the next 5 years and with a market size of $33 billion USD. Now, more than ever, is a great time to get started as a business intelligence professional.But, how do you choose between starting with Tableau or PowerBI, two business intelligence and data visualization giants? I say, why not start with both?
In this course, you'll learn how to create and analyze 6 different dashboards, in both PowerBI and Tableau, in 6 different areas: HR, Hospital Staffing, Food Production, E-Commerce, Retail and Bitcoin.
What you'll learn
How to create dashboards in Tableau
How to create dashboards in PowerBI
Loading datasets into Tableau and PowerBI
Creating visualizations in Tableau and PowerBI
Analyzing Finance, Retail, Ecommerce, Salary,, Staffing and Food production dashboards
Recommended Course
Tableau Certified Associate Exam Guide A-Z (incl. Datasets)
Microsoft Power BI – The Complete Masterclass
Udemy Black Friday Deals - November 2022
Shop our best prices of the season. Courses now up to 85% off
Promotion Dates: 18/11/22 - 26/11/22
Clicks to
Redeem Udemy Coupon