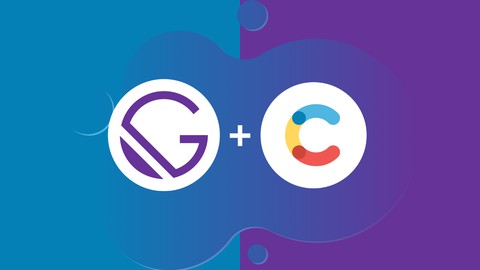 Gatsby JS, Contentful & Gatsby Cloud (Gatsby JS V3 2022)
Use Gatsby JS to build rapid static sites with Contentful as a headless CMS and deploy your Gatsby site to Gatsby Cloud.
Created by Tom Phillips | 3.5 hours on-demand video course
In this course we'll be building a Gatsby site from a Contentful CMS data source, style our app using styled-components, and deploying to Gatsby Cloud! Level-up your React skillset by learning Gatsby.js with a Contentful CMS backend! Gatsby JS uses React JS and GraphQL to generate and build static pages from a given dataset. This course will look at setting up Contentful as a headless CMS while using GatsbyJS to generate a blazing-fast server-rendered React website from Contentful data, such as pages, menus, media, (and more!) using GraphQL to query that data.
What you'll learn
Increase your value and improve your knowledge as a front-end / React JS developer
Learn Gatsby
Create a static, server-compiled, content-driven website using Gatsby JS (with React JS & GraphQL)
Learn how to use GraphQL and GraphiQL in Gatsby to query data stored in Contentful CMS
Deploy your Gatsby JS static website and rebuild whenever our Contentful content changes using Gatsby Cloud
Use Formspree from within Gatsby to capture user's email address and personal details
Style your React and Gatsby apps with styled-components
Recommended Course
Gatsby JS & Firebase: HYBRID Gatsby realtime + static sites
Gatsby JS Developer's Guide – Important Parts & Blog App
Udemy Promotional Code - January 2023
This will also bring up a list of coupons and promo codes that you can use to get a discount on Udemy courses
New customer offer! Top courses from $14.99 when you first visit Udemy
Promotion Dates: 01/01/2022 - 31/01/2023
Clicks to
Redeem Udemy Coupon