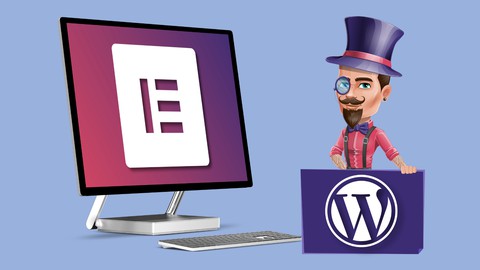 Elementor Theme Builder 2021 – Create WordPress Sites Fast!
Learn How to Create Dynamic WordPress Websites Using Elementor Page & Theme Builder With Global Settings & Custom Fields
Created by Danijel Rose | 4 hours on-demand video course
In this course, you will learn how to build in a fast way all pages of your WordPress website thanks to Elementor Templates. I will show you how you can set up a Design System in Elementor to manage all of your global settings (global colors and global fonts) in one single place. You will also see how you can turn your static pages into dynamic content using custom fields and the new Theme Builder functionality.
What you'll learn
Learn How to Combine Theme Style & Global Settings (Colors & Fonts)
Learn How to Set up an Easy to Manage Website (Design System)
Use Elementor Templates and Template Kits
Turn Static Content Into Dynamic Content by Using Custom Fields
Difference Between WordPress and Elementor Settings
Use Elementor Theme Builder
Recommended Course
The Complete Web Developer in 2021: Zero to Mastery
10 Mega Responsive Websites with HTML, CSS, and JavaScript
Udemy Coupons & Promo Code 2021

*Make your life easier with our Office Productivity courses starting at $11.99 only.

Global (Exclude: Japan)

GET THIS OFFERS