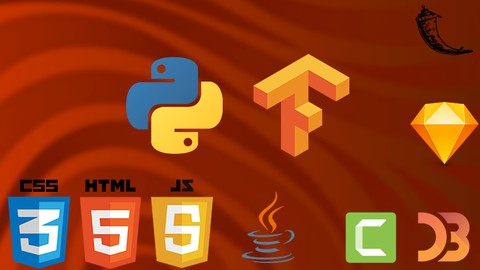 Deep Learning with The Tensorflow and Python Masterclass
Build & improve apps driven by machine learning with data & models! Use Google's deep learning framework w/ Java & AI
Created by John Bura, Mammoth Interactive | 93.5 hours on-demand video course
Go through 3 ​ultimate levels of artificial intelligence for beginners. Learn artificial intelligence, machine learning, and mobile dev with Java, Android, TensorFlow Estimator, PyCharm, and MNIST. Woah! That's a lot of content for one course.
This course was funded by a wildly successful Kickstarter. Use Google's deep learning framework TensorFlow with Python. Leverage machine learning to improve your apps. Prediction Models Masterclass By the end of this course you will have 3 complete mobile machine learning models and apps. We will build a simple ​weather prediction project, ​stock market prediction project, and ​text-response project.
What you'll learn
Learn how to code in Python, a popular coding language used for websites like YouTube and Instagram.
Master the basics: become an expert in Python and Java while learning core machine learning concepts
Learn TensorFlow and how to build models of linear regression
Machine learning goes mobile: learn how to incorporate machine learning models into Android apps
Make an app with Python that uses data to predict the stock market.
And More!
Udemy Coupon May 2022

Sale of the season. Courses for up to 85% off

Region: Global

Promotion Dates: 5/17/22 - 5/26/22

Click HERE to Get Udemy Coupons Code