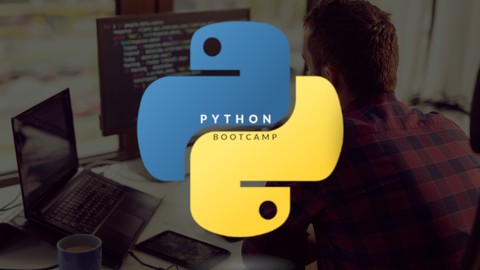 Complete Python Bootcamp : 2020 with practical projects.
Go from an absolute beginner to pro and lay the foundation for Data Science, Artificial Intelligence and much more.
Created by Harshvardhan Anand | 2.5 hours on-demand video course
Become a Python Programmer and learn one of employer's most requested skills of 2020! This is a crisp, clear and comprehensive course for the Python programming language! Whether you have never programmed before, already know basic syntax, or want to learn about the advanced features of Python, this course is for you! In this course we will teach you Python 3.
What you'll learn
Learn to use Python 3 professionally
Learn advanced Python features, such as the collections module
Learn to use Object Oriented Programming with classes.
Understand how to use both the Jupyter Notebook and create .py files
Learn file handling by making an marks database project
Learn about functions by making an advanced calculator
Recommended Course
Complete Python Developer in 2020: Zero to Mastery
Deep Learning and NLP A-Z™: How to create a ChatBot
Udemy Coupons & Promo Code 2021

*New customer offer! Top courses from $12.99 when you first visit Udemy

Region: Global

GET THIS OFFERS