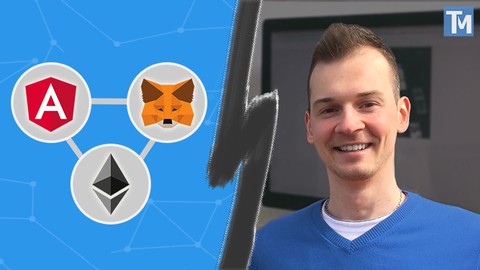 Blockchain Web Development on Ethereum [2022]
The only course you need to learn development of decentralized web application powered by Ethereum blockchain!
Created by Tomas Mikula | 3 hours on-demand video course
Welcome to the Complete Blockchain Web Application Development course, the only course you need to build decentralized web applications. What does blockchain have to do with web development? Blockchain technology has become synonymous with cryptocurrencies and token crowd sales. However, there are a variety of blockchain applications that could be applied to web development. Blockchain technology is one of the latest trends in the web development industry. There has been a lot of hype surrounding this buzzword, and most people are still wondering what the real use cases of blockchain technology are, and if they can actually apply it to make profitable business models. You will learn all fundamental aspects of creating and connecting blockchain application to website and interacting with it.
What you'll learn
Develop full decentralized web application on Ethereum blockchain
Learn smart contract fundamentals and interaction
Learn how to connect your web application to blockchain
How to react to blockchain events
How to deploy and run local blockchain
Recommended Course
Blockchain: Complete Hyperledger Fabric Development Bootcamp
Building an Ethereum Blockchain App: The Total Course
Udemy Promotional Code - January 2023
This will also bring up a list of coupons and promo codes that you can use to get a discount on Udemy courses
New customer offer! Top courses from $14.99 when you first visit Udemy
Promotion Dates: 01/01/2022 - 31/01/2023
Clicks to
Redeem Udemy Coupon