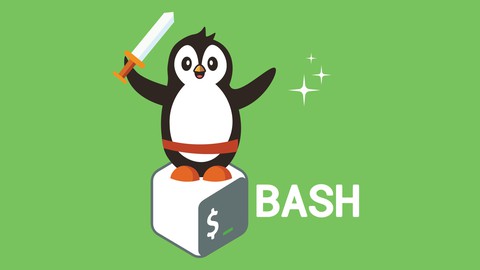 Bash Mastery: The Complete Guide to Bash Shell Scripting
Master Bash Shell Scripting to Automate Tasks, Save Time, and Boost Your Career. Practical Projects + All Code Included.
Created by Ziyad Yehia, Internet of Things Academy | 11.5 hours on-demand video course
Hello and welcome to the Bash Mastery Course, the ultimate bash shell scripting course that'll have you independently writing and automating your own high-quality bash shell scripts in no time! The invaluable knowledge you'll gain from this course will give you a competitive advantage in your career, save you time and help you automate boring tasks! At last, a project-based bash scripting course packed with valuable and useful resources taught from the official Bash manual! Get ready to join thousands of my super successful students who've mastered Linux Command Line in my bestselling, top-rated Linux Mastery course and jump aboard this career-boosting Bash Scripting Mastery course for beginners.
What you'll learn
Write bash scripts independently
Fluently Read and write bash syntax
Automate workflows with bash scripts.
Debug bash scripts using professional debugging tools
Execute bash scripts on remote servers
Recommended Course
Bash Scripting and Shell Programming (Linux Command Line)
Linux Mastery: Master the Linux Command Line in 11.5 Hours
Udemy Coupons - December 2022
Get Certified! IT Certification courses starting from $12.99.
Promotion Dates: 01/12/2022 - 01/01/2023
Clicks to
Redeem Udemy Coupon