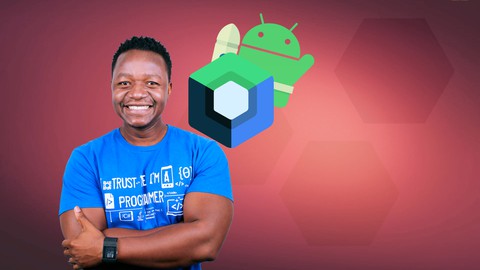 Android Jetpack Compose: The Comprehensive Bootcamp
Kotlin Jetpack Compose: Firebase Firestore, Hilt & Dagger, ROOM DB, ViewModel, Retrofit, Navigation & Clean Architecture
Created by Paulo Dichone | Android, Java, Flutter Developer and Teacher | 29 hours on-demand video course
**This course is tailored for beginners and Advanced Developers**
Android Jetpack Compose is a new way of building modern android apps. The Software Development industry is moving away from the Imperative Approach of building apps – where developers were required to write a lot of boilerplate code, navigate through inconsistent APIs, and hard to maintain code to build simple mobile apps. With Jetpack Compose, building Native UI for the Android platform is more effortless, concise, consistent, and less code. Jetpack Compose is the new modern toolkit that gives Android developers a simplified and accelerated way to build Native UIs on Android – with this toolkit; developers can build android apps with less code using Kotlin!
What you'll learn
Learn Clean Architecture and MVVM Patterns with Android Jetpack Compose
Master Jetpack Compose and Build Modern Android Apps
Build 7 Android Apps with Jetpack Compose and Kotlin – Use Firebase Firestore for the Backend
Master Modern Android Development Best Practices with Jetpack Tools and Compose
Leverage Hilt and Dagger and add Dependency Injection into a Jetpack Compose Android App
Build, from scratch, beautiful native UIs with Jetpack Compose – a Declarative approach for building moder Android Apps
Integrate Android ROOM Database into a Compose Application
Recommended Course by Paolo Dichone
AWS Step Functions Guide – Workflow Automation in Minutes [NEW COURSES]
AWS CDK Masterclass – Build Cloud Infrastructures in Code [NEW COURSES]
AWS SAM Framework and AWS Lambda – A Complete Hands-on Guide [NEW COURSES]
AWS Amplify Studio Masterclass – Visually Build UI & Backend
AWS Lambda and the Serverless Framework – Hands On Learning!
[NEW] Amazon ECS & Fargate Master Class – Docker on AWS
AWS AppSync & Amplify with React & GraphQL – Complete Guide